POS Software For Retailer
POS Software to manage your entire retail operations. Manage your Retail Stores- sales, inventory, purchases, customers, finances & more easily with Retail Solution POS software. Create & Print Professional Invoices & enjoy uninterrupted  Billing.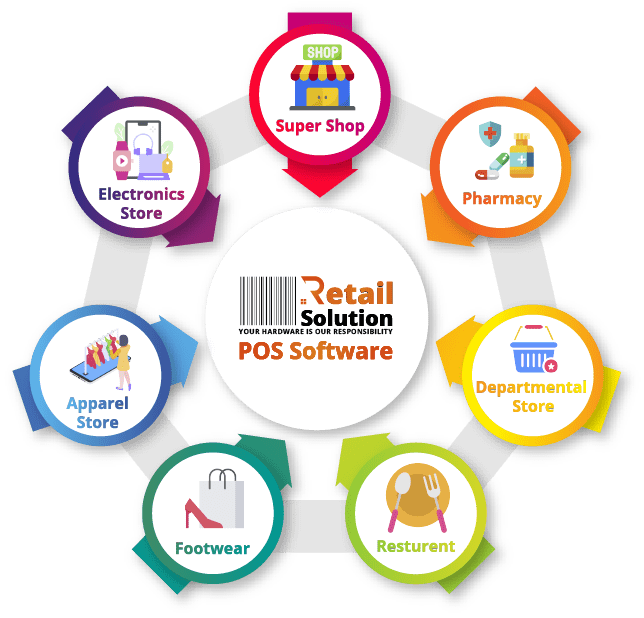 Enhance the Growth of Your Business with Retail Solution
Best POS Software Provider in Bangladesh
Bill instantly with increased efficiency using Touch Screen POS system. Evaluate your daily reports, get complete customer history, track products in a click & much more.
Design & Print barcode labels to add SKUs, Serial No., Batch No. etc. Track products easily with different types of barcode scanners & search options.
Cash Drawer management system
With an advanced Cash Drawer management system, manage Cash Flow on each transaction with security. Set user wise power & boundations to control cash dealings with the best POS software in Bangladesh.
Know the Fast, Slow and Non- Moving products in your store. Set Re-order points on the basis of Product Sale/ Profit/Stock level & Calculations.
Track your stock, set reorders points, make inventory up to date. Retail Solution POS Billing Software with inventory tracking helps to streamline your entire business.
No need to feed manual Purchase. Import bill from any Excel, CSV or PDF format to save time with 100% accuracy & map items/products with existing items.
Stay connected & encourage your customer to continue shopping with you by giving Loyalty Points that can be redeemed on next purchase for Heavy Discounts.
Attract more customers to increase your sales at your Retail stores with Multiple Discounts & Scheme options like Item Discount, Bill Discount, Combo Offers etc. 
Never compromise on safety of customer, provide 100% Safety Assurance with Home Delivery, QR Code Ordering, Online Ordering options & receive Digital Payments in one click.
Enjoy unlimited POS System solution
Know more about Retail Solution® POS Software
Frequently Asked Questions